This page last modified: Saturday October 31, 2009
Things for sale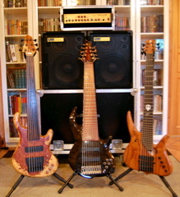 The short story:
Bass rig - Eden WT800 and two AccuGroove Tri-112L sold.
Benavente Vortex 6-string fretless bass not for sale. It's a beauty. And I'm keeping it.
Surine Regency X 6-string bass for sale. Asking for NOK 15.000 kroner. My workhorse.
Conklin Sidewinder 9-string bass NOT for sale. This one is lovely. And I am keeping it.
Pedal board, custom made, with Roland GR-20 and V-Bass sold.
Warmoth G4 jazz bass Sold.